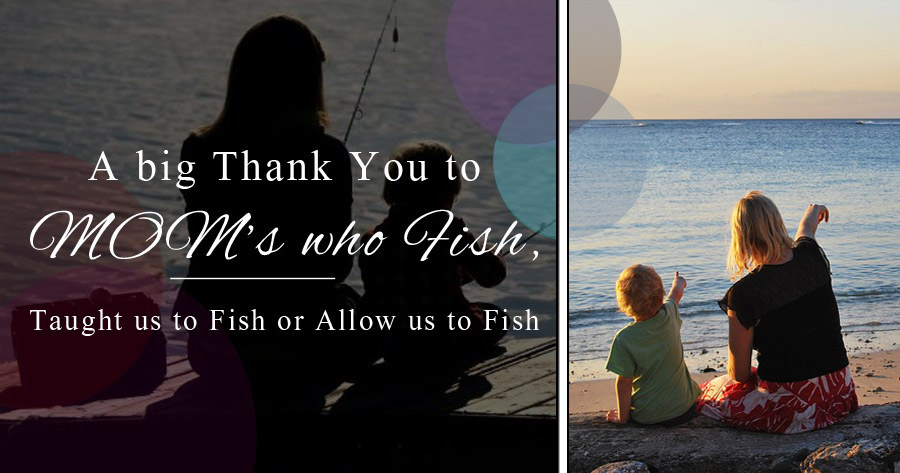 I am going to show my sensitive side with this blog, and not hide behind the manly tough guy façade that business CEO's and tour fishermen are known for, because when it comes to my mom, and my wife, who is also an awesome mother of three, I always wear my feelings on my sleeve where everyone can see them…no apologies!
First, about my mom…In 2018, Mother's Day is going to be extra tough for some of us because as we get older, the recognition hits that our beloved moms are getting older (and frailer). For me personally, it set in earlier this year as I had to see my mom moved into a nursing home fulltime to get the care she needs 24/7.
For those of you who know my life story, my mom, and subsequently her kids, had a tough life full of spousal abuse, rough financial periods and way too much demanding work building a business that she loved and was so talented at, but for which she never charged enough for her services. Many a week I saw my mom pull a no-sleep, 72-hour-straight stint working non-stop to prepare everything for her client's events that weekend.
I attribute much of my success in business now to the entrepreneurial spirit my mom demonstrated and instilled in me from a very early age under extraordinarily tough circumstances. And I give her credit for planting the early seeds for my love of fishing. My mom didn't fish, but for some reason, when times were tough, my mom used to allow me to go sit on a nearby bridge and pretend I was fishing with an old, broken Mickey Mouse pole. Sometimes I did it for hours, and she let me, knowing it was my respite and way of my dealing with the abuse back home.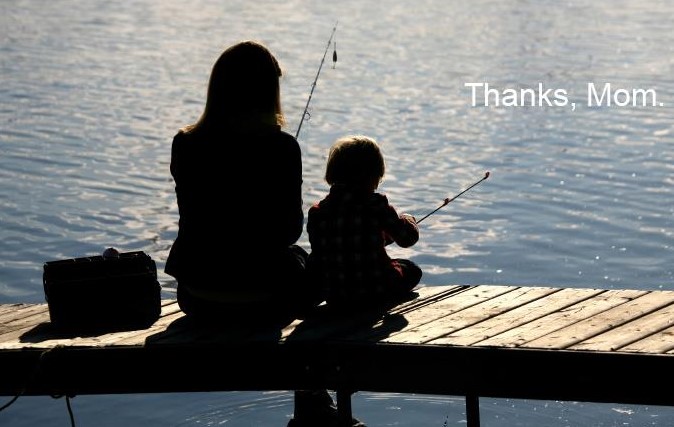 Later on, she let me spend time with a neighbor she really didn't know that well, but who was nice to me, and more importantly was willing to teach her little boy how to actually fish. Thank God for my mom's willingness to do that! She knew, pardon the pun, that I had "caught" the fishing bug and despite not having the money, she found the funds to help me buy my first fishing rods and tackle, then she supported me by letting me ride my bike all over the back-country roads, tackle and rods in tow, looking for farm ponds to fish.
It was on one of those jaunts that I stumbled upon the idea for my very first fishing-related business, and again, despite not having the financial resources, my mom found a way to help get me the seed money needed to launch that business. Long story short, that business became a tremendous success, and the catapult for all that I have today, and my mom was paid back handsomely. Hindsight shows that my mom's great financial sacrifice then would become one of her greatest investments now.
When I was a youngster, my mom constantly found innovative ways to encourage me to grow in my fishing career, and despite having no fishing business background, taught me early on the valuable lifelong skills that I still use today in working with everyone, from sponsors to suppliers. As a young teenager, she offered the ultimate sign of love by any mother, allowing me to leave home, and away from her, to learn from the best in the fishing industry, as I traveled all over the country, and later on the world.
The title of this blog was, "A Big THANK YOU to MOM's who Fish, taught us to Fish or Allow us to Fish!" My mom expressly qualified on two of those points and for that, I am eternally grateful, as she allowed for and built a foundation for me to express a passion that I have pursued for over 40 years, which I have subsequently used as a platform to help thousands and thousands of others. Without ever knowing it would, what a powerful and everlasting impact my mom actually made to those thousands, and for her willingness and sacrifice early on, she really is the one who deserves all the credit. So, to my mom, I say a special thanks. I will forever love you!
To all of you reading this, I appreciate your indulgence as I share my mom story. My point being; all of us "tough" guys need to really make it a point to thank our moms for all they have done, and not just on Mother's Day but 24/7/365. If you are married, that means your wives too!
Even if they don't fish, they surely qualify under the category, "Allow" us to fish. Lord knows they put up with enough, just under that category alone…lol, from the early morning rises to get us off to our tournaments, to the days spent with the kids while we pursue our other "love," to the house strewn with tackle and rods, to the late night arrivals back as they care for our sore, aching, sunburned bodies and "hangry" attitudes if the days fishing didn't go as we would have liked, they truly "allow" us, and for that they deserve a big thanks as well!
So, there you have it, not the message you were expecting, no special fishing tackle pitches or one-time-greatest-ever sales, just some quality one-on-one time with the president & CEO of the parent corporation that proudly has Fishermens Heaven amongst its many great companies, thanking all the moms and wives out there who we are blessed to have as customers or supporters of our male clientele. I know many of you have your own special mom stories, and we would be honored to hear them, so feel free to drop us a line at FishermensHeaven.com or thru Facebook.
And once again, to all the moms and wives out there, may God bless you, and keep you safe and happy this Mother's Day 2018!